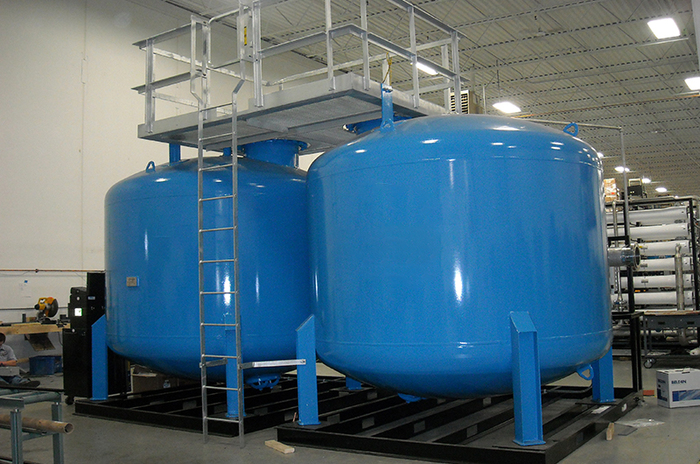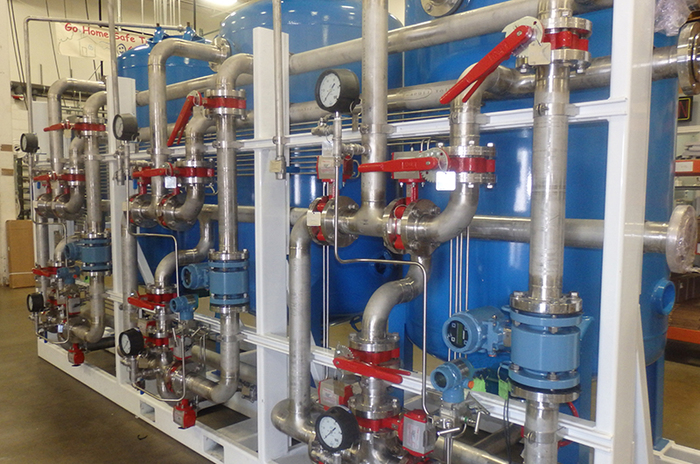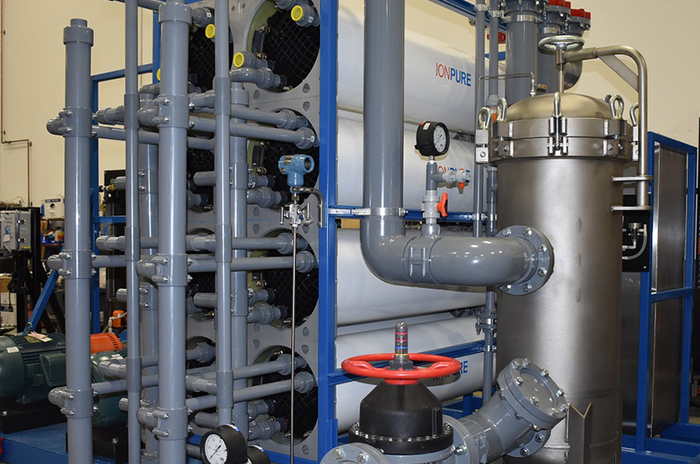 Kurita America's water softening systems are designed to remove hardness in high and low water demand conditions. Both our standard and customized industrial softeners are built in-house by our professional technicians, allowing us to meet a facility's exact requirements with a quick turnaround time. Our systems can be delivered as separate components for field assembly or completely shop fabricated skid mounted systems.
Ion Exchange System Options
Skid mounted
Brine reclamation
Fully customizable
Online monitoring
Kurita America offers sodium form, amine form or mixed bed condensate polishing treatment systems for use in steam systems. Common to commercial and institutional markets, our sodium form condensate polishers are designed for high temperature and high iron and hardness loading. Amine form condensate polishers are also available in the pulp, paper and utility markets. Finally, the mixed bed systems can be designed for long run time and either internal or external regeneration.
Kurita America's dealkalizers are available in a variety of sizes with customizable options to suit any water system need. Via the ion exchange process, our dealkalizers remove alkalinity ions to provide reliable, uninterrupted dealkalized water to reduce corrosion rates and chemical usage. Pairing the dealkalizer with Kurita America's brine reclamation system can result in further reduction of salt use.
When high purity water is required for steam, process or other water uses, Kurita America's line of Deionization (DI) treatment equipment is robust and proven. Available as either separate or mixed bed design in either co-current or counter-current regeneration, Kurita America can provide an engineered solution. Complete your DI treatment system with chemical feed systems, chemical storage tanks and an integrated control system.
Kurita America's Electrodeionization (EDI) units provide a high efficiency demineralization process by combining our membrane and ion exchange technologies. For use in high purity water applications, EDI systems replace the need for hazardous acid and caustic chemicals associated with traditional onsite regenerated ion exchange (demin) systems.
Kurita America's Serviceable Deionization (SDI) offering is an ideal solution for high-purity water needs, and engineered to withstand the most demanding environments to ensure continuous operation with timely service. Our SDI systems are designed to be completely rust and corrosion free, impact and abrasion resistant, and modular to meet varying capacity requirements.
Kurita America's RidION water softener systems are designed to handle a wide range of incoming water hardness to produce consistently soft water for steam, cooling, and other water uses within your facility. Fully customizable to meet stringent specifications for commercial, municipal and industrial applications, our RidION systems incorporate the newest technologies in resin regeneration. They also solve a broad range of water treatment issues for municipal drinking water including contaminant removal and hardness and barium reduction. Available with alternating vessel design allows for placement of two or three additional tanks to ensure the desired water quality is maintained, even during regeneration.
Kurita America offers several other specialty ion exchange treatment systems for removal of chromium, copper, zinc, arsenic, nitrate, color and many other contaminates.