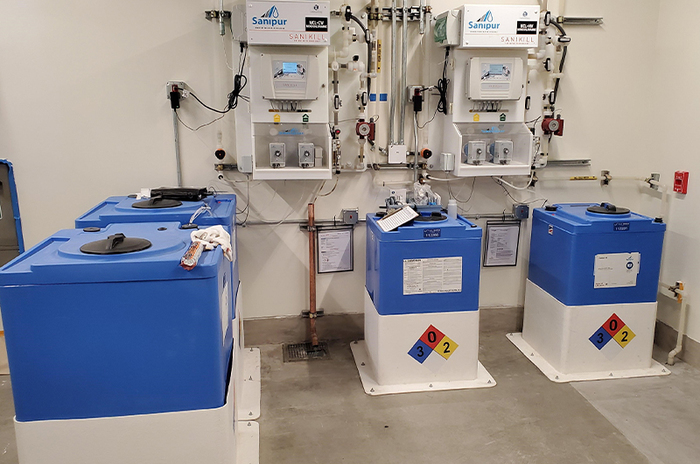 Kurita America offers a Total Solutions approach for your secondary disinfection needs, including advanced filtration of potable water, electronic monitoring, record keeping, and more to effectively manage waterborne pathogens and minimize the risk of an outbreak. As Legionella regulations and compliance mandates continue to evolve, facilities management can be assured that Kurita America will develop your water treatment program in accordance with these standards.

We understand the complexities of building water management; whether it is domestic or utility water, every building has unique flow, temperature, and disinfection dynamics. How building water is managed is a key and required element in minimizing exposure to pathogenic bacteria. Kurita America can provide several programs that will assist in reducing these risks. From on-site bacteria testing to complete secondary disinfection equipment and monitoring programs, Kurita America will provide the resources required to maintain building water management programs.

The Sanipur monochloramine generator is a patented system for the production and injection of monochloramine for disinfection and control of waterborne pathogens, such as Legionella, in domestic water plumbing systems. Monochloramine is produced in a specially designed reactor by mixing a chlorine precursor with an ammonium salt that exits the reactor into the building domestic water flow. Aside from being a highly effective disinfectant and biofilm penetrant, Sanipur monochloramine has a much lower corrosion profile compared to any other disinfectant and is fully compatible with any plumbing materials.
Building water management can be challenging to incorporate into a comprehensive and actionable plan, particularly in complex domestic and utility water systems. No two buildings have the same water flow characteristics. Kurita America's expertise in building water pathogen risk management can help reduce the complexity of risk mitigation by partnering with your facility management group, providing equipment options, testing regimens, and confirming remedial protocol documentation.
Knowing how your water is used is simple, right? The supply water is disinfected prior to entering your facility, however after entering the building distribution system, conditions can change. The piping environment, water flow patterns, disinfectant residual, temperature and biofilm development can all have an impact on the water quality and pathogen development risk. Our secondary disinfection team can perform a comprehensive building water survey, identifying unseen water quality issues. This survey would involve documenting inadequate disinfection residuals, hot water temperature stratification, dead-leg identification, and the potential for biofilm development. Detailing each of these building metrics will assist in reducing the potential for waterborne pathogen exposure, and Kurita has the resources and expertise to document these metrics.
Explore Key Products and Technologies