On September 10th, 2019, Governor Tim Walz, Governor of Minnesota, and a total of six Commissioners and Directors of the Minnesota Department of Employment and Economic Development and the Minnesota Trade Department, visited Kurita Water Industries Headquarters.
Kurita Group is expanding its business in North America and has established Minnesota state as its United States base. During this visit, the Minnesota representatives expressed their gratitude towards the Kurita Group for its contribution to the economic development of Minnesota through its growing business activities.
During the meeting, the teams discussed the current status of Kurita's business activities in Minnesota and water management industry trends. Together, they share a commitment to the development of Minnesota and Kurita Group.
In the future, Kurita Group's global teams will work together to expand its North American business model, alongside other U.S. organizations.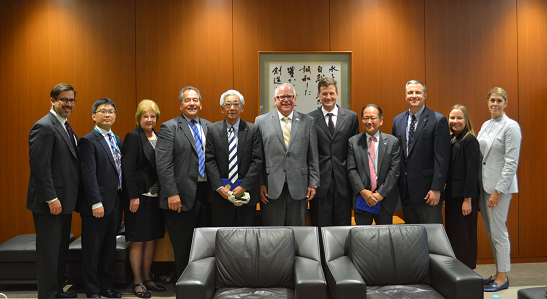 Pictured Above: Governor Tim Walz (center) pictured with Kurita, U.S. Water and Minnesota Representatives.
Pictured on Top: Governor Tim Walz (left) and Chairman of Kurita Water Industries Mr. Iioka