The City of Wausau, Wisconsin was exploring options to address aging infrastructure concerns at their existing drinking water treatment plant. In 2017, they hired a consulting engineer who contacted Kurita America for input on available treatment process and equipment options. The pending capital improvement project was an opportunity to upgrade with new technology, improving water quality and overall efficiency. The city hoped to move away from the existing process of feeding of lime, and the existing filters used antiquated underdrain and backwash components. Although the city's drinking water met all regulated safety standards, a tint of color remained and affected the overall aesthetic. Further, the city's multiple wells varied in quality, requiring a robust solution and strategy to accommodate changing feed water.

Kurita America provided phases of bench-top testing and piloting services to assess chemical treatment combinations, detention time, and filter media options. On-site jar testing qualified alternatives to feeding lime, which was verified during phase I pilot testing using different filter media types. Once a filter media was selected, phase II of pilot testing focused on optimization of chemical feed and detention requirements with respect to filter run length and backwash frequency. The additional testing gave valuable perspective on the changing water quality and provided informed compensation strategies for efficient full-scale operation.
Preliminary qualitative testing at Kurita America confirmed the ability to remove the color using adsorptive media, later verified during bench-scale testing. Kurita America's Organix™ process was operated in parallel to conventional Granular Activated Carbon (GAC) during pilot testing, both of which successfully removed the color.
The city was intrigued by Kurita America's Simul-Wash™ filter backwash method, which uses air and water simultaneously for sustained durations to provide optimal media cleaning while minimizing water use. The Uni-Cast™ II monolithic underdrain was also attractive, providing a continuously poured cast-in-place concrete plenum that allows for access and inspection below the filter media. Both features were incorporated into the final filter design.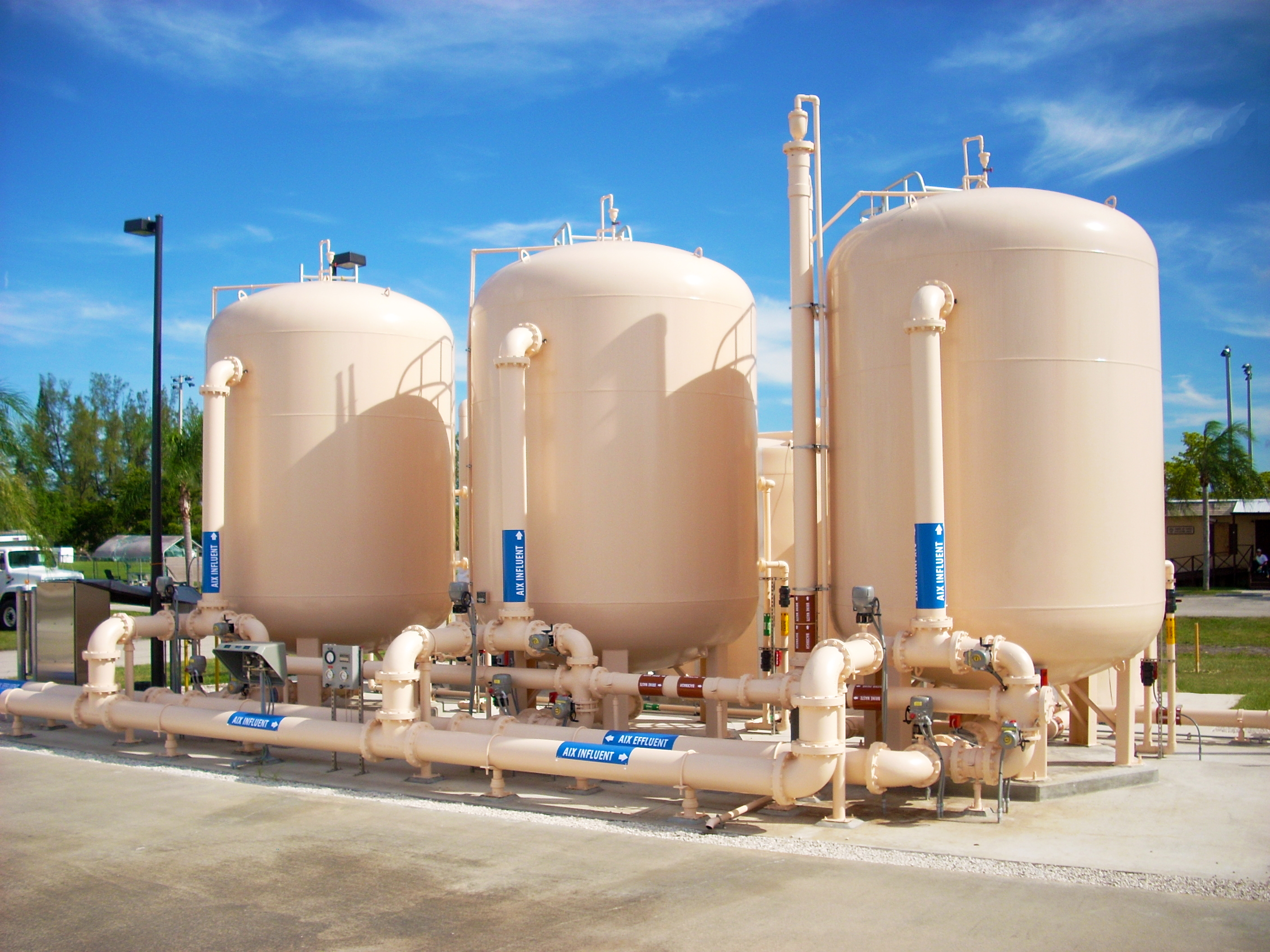 Similar Organix Installation at Davie, FL
The engineer released plans and specifications in early 2020 for a February bid date. The City of Wausau's new water treatment plant is currently under construction for completion in 2022. The new plant will provide nine million gallons per day of treatment capacity and remove iron, manganese, color, and dissolved organics from the water supply wells. The final filter design includes combined air/water backwash, and Kurita America's Simul-Wash method will save upwards of 60,000 gallons of water per filter backwash versus conventional methods, cutting non-revenue water by tens of millions of gallons annually. Kurita America's Organix process was selected for color removal, which offered the lowest cost of ownership when considering resin regeneration frequency versus periodical GAC media replacement over the life of the equipment. Both systems will be fully automated and include PLC-based control panels by Kurita America's UL certified panel shop. Kurita America's equipment scope also includes natural draft cascade-type aerators for iron oxidation and packed stripping towers to remove Trichloroethylene (TCE) and Perchloroethylene (PCE) from select wells. The City of Wausau's new water treatment plant project is a testament to Kurita America's broad municipal offering and integrated solutions approach to water treatment.
To learn more about Kurita America's water treatment solutions visit our Municipal Drinking Water industry page or contact us today.