The City of Savage, Minnesota had relied on legacy Tonka Water (now Kurita America) equipment at their No. 2 Water Treatment Plant since 1985. When it came time to replace the aging infrastructure, they wanted to keep aeration and gravity filtration, but also enhance the treatment process with detention. Kurita America's Dualator® III packaged treatment product was a good fit, which consolidates aeration, detention and filtration into a single low-profile unit. The city's utilities superintendent reports that the new equipment has rejuvenated the aging plant back to reliable full-service capability, effectively removing iron, manganese, and radium from the drinking water supply wells.
"We had made very reliable and effective use of that plant for over 30 years," said Michael Klimers, the superintendent. The city's first Water Treatment Plant (WTP), No. 1, was built in 1961 to remove iron and manganese for about 5,000 residential potable water users. The No. 2 WTP was built in 1985 and expanded three years later, more than tripling overall treatment capacity. In 1995, the process was modified to also remove radium, now a primary contaminant regulated by the USEPA Safe Drinking Water Act. As demand grew with more than 13,000 users in 2000, the No. 1 WTP was demolished and replaced with the No. 3 WTP, which solidified treatment capacity for future growth. "With the effluent quality as good as No. 2, the new No. 3 became our main workhorse, with the No. 2 WTP right behind it from 2000 to 2009," Klimers recalled.
In 2009, the city entered a finished water purchase agreement with the neighboring City of Burnsville, with the enticement to reduce the amount of water drawn out of its aquifers. It had already been modifying its well use to serve similar purposes. "That combination allowed for a rebound in static water levels in the aquifers feeding our wells," Klimers said, "while restoring environmental water balance in our Savage Fen, a natural work of art with unique flora and fauna."

From 2010 to 2016, the No. 3 WTP and the purchased water served as the main providers for the city, and sometimes the entire supply. "We didn't mothball the No. 2 WTP but used it once a week to keep it fresh and running, and ran it hard when it was needed," Klimers continued. "By 2014, we didn't have any filtration issues, but we could see the plant was starting to wear out, with the media nearing the end of its life, as was the pumping and transfer machinery."

The city worked with a consulting engineer to investigate different options to revitalize the WTP. They considered complete demolition and reconstruction, as well as partial demolition and salvage. A third option was selected to keep the building and replace the existing treatment system with new equipment that also incorporated detention. "We went through the plant thoroughly and looked over everything, and opted for all brand-new equipment, rather than try and salvage any," Klimers said. Additional upgrades would include new pumps, valves, chemical feed systems, piping, and transfer equipment, with complete replacement of the Supervisory Controls and Data Acquisition (SCADA) system.
The new treatment equipment would replace an existing aerator and two gravity filters. While available floor space was limited, there was ample ceiling clearance. Kurita America worked with the city's consulting engineer to customize the Dualator III design, increasing the unit height to accommodate the detention requirement while minimizing the impact on overall equipment footprint.
"When we saw that Plant No. 2 was nearing the end of its useful life, we were very pleased to have the option of bringing it back to reliable, full load capability within the same limited footprint that we had available," said Klimers. "We also gained an important new capability for adding detention time to the pre-treatment process."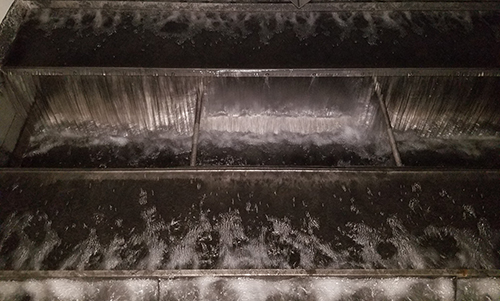 Simul-Wash™ trough during combined air/water backwash

In 2016, the city approved the funds for a major plant improvement, and bids were solicited. "When it came to selecting a manufacturer for the new filtration system," Klimers recalled, "we already had a good working relationship with Kurita America, having used their gravity filters for a long time, making good water the whole time, and with their service people always there for us whenever we needed help. We seriously considered other filtration manufacturers through a competitive bid process, but it didn't seem like they really wanted the job, while Kurita America took the time to get our thoughts and understand our business and situation."
The Dualator III treatment system, manufactured by Kurita America, includes two separate 1500 gpm 48 ft. x 13 ft. x 14 ft. high units that each incorporate aeration, detention, and filtration functions within a single vessel. The aerator section provides natural iron oxidation, after which chemicals are added through a static mixer for additional oxidation and radium adsorption. The baffled detention chamber and available volume above the filter media provide approximately 25 minutes of total reaction time for particle formation prior to removal through GreensandPlus™ and anthracite dual media. Large hinged manways allow for ease of access into all three stages of the treatment process, whether for observation during service or periodic maintenance. The filters include Kurita America's Simul-Wash™ backwashing technology, which provides advanced media cleaning while minimizing water use, cutting backwash waste by more than half compared to conventional methods for similar durations.
The City of Savage No. 2 Water Treatment Plant refurbishment was completed in September, 2017. "We made water the day we fired up," reported Klimers. "It met or exceeded our standards, and went into storage for sale."