The utilities superintendent for the City of Savage, MN reports that an innovative, custom pre-treatment system in a well water treatment plant, for the removal of iron, manganese and radium, has keyed the rejuvenation of an aging plant back to reliable full service capability, all within the same footprint. He also notes new savings on both pre-treatment and polishing chemicals.

The new pre-treatment system features the addition of detention to aeration and filtration, within a single vessel.

"We had made very reliable and effective use of that plant for over 30 years," said Michael Klimers, the superintendent. "Our service demand more than doubled, and also while we added another plant, varied use of our wells, and started to purchase finished water to reduce the draw out of our aquifers, we essentially lessened the need for that plant."

"When we saw that plant No. 2 was nearing the end of its useful life, we were very pleased to have the option of bringing it back to reliable, full load capability within the same limited footprint that we had available. We also gained an important new capability for adding detention time to the pre-treatment process, and have seen significant reduction in full-load costs for manganese sulfate and potassium permanganate during pre-treatment, and for sodium hypochlorite for polishing."

Operating under regulation from the U.S. Environmental Protection Agency's Safe Drinking Water Act, as well as Minnesota's Groundwater Protection Act, the plant produces finished effluent containing less than 02 mg/L iron; less than 0.04 mg/L manganese; and less than 5 picocuries/L radium 226/228. Raw feed water from well fields is as high as 1.08 mg/L iron; 0.394 mg/L manganese; and 15.7 picocuries/L radium 226/228.

With the rejuvenated plant operating at 3000 gal./min. (4.4 MGD), Klimers estimates annual pre-treatment savings of $16,000 for manganese sulfate (MnSO4); $9,000 for potassium permanganate (KMnO4); and polishing savings of $9,000 for sodium hypochlorite (NaOH).

Plant History and Operation The city's No. 2 water treatment plant (WTP) began operation in 1985 as a 2.2 MGD gravity filtration system using two units for the removal of iron and manganese, with an emphasis on aesthetic considerations. It joined the city's No. 1 WTP, a 1 MGD pressure filtration unit built in 1961, to serve about 5,000 residential potable water users.

In 1995, the filtration media for WTP No. 2 was modified to add Greensand and anthracite, for radium removal, a need that was also addressed by the addition of an in-situ hydrous manganese oxide process (HMO). The latter feeds manganese sulfate and potassium permanganate to form manganese oxides in-situ.

In 2000, with demand grown to over 13,000 users, the No. 1 plant was demolished, and replaced by a new WTP No. 3, a 4.2 MGD gravity filtration unit. The new unit could be routinely pushed to 5 MGD, and to 6 MGD for short term needs.
"With the effluent quality as good as #2, the new #3 became our main workhorse, with the #2 WTP right behind it from 2000-2009," Klimers recalled. "But then #2 became more of a peaking plant."

In 2009, the city entered a finished water purchase agreement with the neighboring City of Burnsville, with the enticement to reduce the amount of water drawn out of its aquifers. It had already been modifying its well use to serve similar purposes.

"That combination allowed for a rebound in static water levels in the aquifers feeding our wells," Klimers said, "while restoring environmental water balance in our Savage Fen, a natural work of art with unique flora and fauna."
From 2010 to 2016, the No. 3 WTP and the purchased water served as the main providers for the city, and sometimes the entire supply.

"We didn't mothball the No.2 WTP, but used it once a week to keep it fresh and running, and ran it hard when it was needed," Klimers continued. "By 2014, we didn't have any filtration issues, but we could see the plant was starting to wear out, with the media nearing the end of its life, as was the pumping and transfer machinery."

"In addition, with the process including only aeration before the gravity filtration, we were needing a lot of pre-treatment chemicals to get the oxidation we needed to get our radium down to acceptable limits, as well as a lot of chlorine gas for process. We didn't have any major problems, but we began to ask what we could do to assure we would continue to have our No. 2 WTP available when needed, as efficiently as we could."

Following some preliminary engineering consultation, the project continued with full engineering and design services, including some generic pilot testing "to help determine what we needed the plant to do and how to get there," with Short, Elliot, and Hendricksen (SEH), through their St. Paul, MN office. The city considered three basic options to bring the No. 2 WTP "back into the business" if they desired to.

Options included complete demolition, and moving that WTP operation to the other side of town; partial demolition and salvage; and saving the plant, with some demolition, while replacing the filtration system and all its appurtenances. The third option was selected, to include replacement of the two filtration units with a new system incorporating the addition of a detention function; new pumps, valves, oxidation systems, chemical systems, plumbing, pipes, and transfer equipment; and complete replacement of supervising controls and data acquisition (SCADA).

"When it came to selecting a manufacturer for the new filtration system," Klimers recalled, "we already had a good working relationship with Tonka Water, having used their gravity filters for a long time, making good water the whole time, and with their service people always there for us whenever we needed help. We went through the plant thoroughly and looked over everything, and opted for all brand new equipment, rather than try and salvage any."

"We seriously considered other filtration manufacturers through a competitive bid process, but it didn't seem like they really wanted the job, while Tonka took the time to get our thoughts and understand our business and situation."

"There was also the critical need to address the limited footprint that was available. The building has an encumbered overhead electrical easement, with parkland, to the north; a wetland to the west; and a thoroughfare to the south."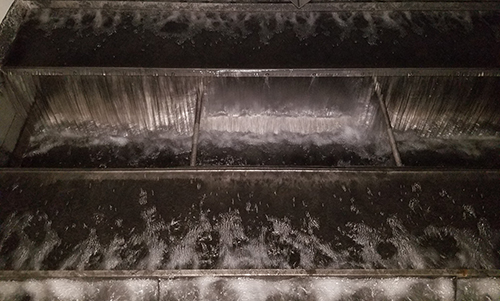 In 2016, the city approved the funds for a major plant improvement, and bids were solicited. The plant was shut down in September, 2016, and restarted as fully operational in September, 2017.

"We made water the day we fired up," reported Klimers. "It met or exceeded our standards, and went into storage for sale. We not only had good engineering, but lucked out with a local general contractor, Magney Construction of Chanhassen, who meant business and did well, including all their subcontractors for electrical, instrumentation and controls, and plumbing and HVAC."

New Pre-Treatment System
The Dualator® III pre-treatment system, manufactured by Tonka Water, now a U.S. Water Brand, includes two 48 ft. x 13 ft. x 14 ft. lo high units incorporating aeration, detention, and filtration functions within a single vessel. Raw water spends approximately 25 minutes in the detention phase before entering gravity filter cells with 12 in. of anthracite, and 18 in. of Greensand Plus™. Sodium hypochlorite (NaOH) is added, as needed for oxidation. It is also deployed "as polish to keep up with the need for chlorine residuals, and is our primary disinfection treatment," Klimers emphasized.

Each unit continues to process 1500 gpm. He added that a 20% reduction in the need for HMO chemicals appears feasible. Previously, 4% potassium permanganate (KMnO4) was used @ 200 gpd, and 3% manganese sulfate @ 150 gpd. In the rejuvenated plant, sodium permanganate (NaMnO4) has replaced KMnO4. Sodium hypochlorite (NaOCl), as needed for oxidation and polishing, is added @ 1.20 mg/L.

"We wanted a system that took care of all three removals---iron, manganese, and radium---and we have achieved that goal," he concluded. "They understood our operations and performance, and gave us the right product for our application."
The full-system plant controls are provided through an Allen-Bradley-based PLC, utilizing Tonka Water's remote access to allow for online plant access. Hatches on the Dualator®III allow for observation of all three stages of the removal process for iron, manganese, and radium.

Tonka Water's Simul-Wash™ backwash system is designed for backwashing with air and water simultaneously, providing for optimal media cleansing while minimizing water usage. The Dualator III treatment system can also be designed to remove arsenic.