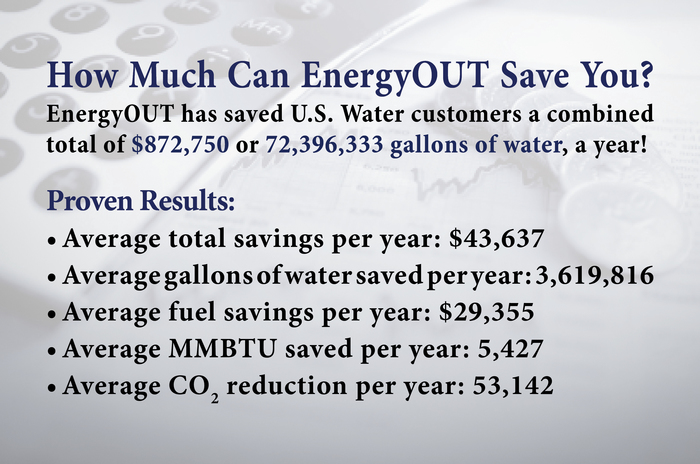 An Integrated Water Solution for Boilers
Often, plants are looking to increase their steam boiler efficiency but do not have a sufficient capital budget for a new Reverse Osmosis (RO) system. Kurita America's fully integrated EnergyOUT solution meets this need. Available through an operating lease, EnergyOUT includes equipment, standard service, chemicals, and consumables for a set, monthly price.
The EnergyOUT Program Advantage
Direct energy savings
Enhanced plant sustainability & efficiency
Improved steam quality
Reduced maintenance and expenses
Remote system monitoring
No capital expense
EnergyOUT's RO technology removes dissolved ions in boiler feed-water, resulting in enhanced plant sustainability by lowering fuel demand, carbon emissions, chemical use and water discharge. Learn more about our customizable options below.
A complete RO sized correctly for your system, available in 7.5, 15, 30 and 50 gallons per minute
Carbon filtration and pre-filters to protect the RO membranes
RO product water storage tank with level controls
RO product water forwarding pump
pH adjustment of the RO permeate to prevent corrosion
RO is built with a VFD controlled pump and low energy membranes to reduce electric consumption
The secure connectivity provided by the U.S. Water Gateway allows Kurita America to service the equipment and make system changes remotely to maintain efficient operation
EnergyOUT skids are pre-built and ready to install, greatly reducing installation time
Once installed, Kurita America representatives train facility personnel on system operation and limited maintenance
Available in 3, 4, or 5 year contracts with the option to re-sign.