Across North America, industrial facilities are focused on providing products safely and efficiently. These facilities are typically using production equipment, raw materials, skilled labor, and mechanics, which employs countless employees and vendors. An integral part of this process for many industries incorporates water treatment for boilers, reverse osmosis (RO) systems, cooling towers, and other systems, requiring skilled field engineers and experienced laboratory personnel to best treat and protect a facility's assets. Kurita America's local representatives and laboratory team work together to create the best solution for you through using a Total Solutions approach and state-of-the-art laboratory to deliver effective chemistries to solve your toughest challenges.
Your Locally Focused Representatives
Whether you are a prospective or current customer, a local Kurita America representative will survey your facility from a water treater's perspective, ensuring that your current or proposed treatment meets your facility needs. This technical approach with cutting-edge technology and research and development support is instrumental in selecting from over 600 Kurita America chemistries to meet your facility needs.

Equally important is your local representative, who knows that each system in your facility has specific treatment requirements and will take water samples to determine how well that system and facility is being protected. The water samples are sent to Kurita America's in-house analytical laboratory for testing and reporting of water quality.
Kurita America's Analytical Laboratory
Kurita America's analytical laboratory offers diagnostic results to help our representatives select the best solution for your facility, which includes sampling and testing with our state-of-the-art instrumentation. Our local representatives are trained to take samples accurately and safely on site. Our analytical laboratory located at our corporate headquarters in Minneapolis, Minnesota, tests the following types of samples:
Water
Deposits
Membranes
Bacteria
Coupons
Filters
Media
Resin
The analytical lab runs comprehensive water analyses, which entails examining the anions, cations, and wet chemistry, such as pH, conductivity, alkalinity of the water sample, to help determine the best treatment for mitigating potential water treatment issues in the future. The lab processes around 1,750 samples per month with its broad variety of analytical tests. The Kurita America analytical laboratory team is currently processing samples with an expected turn around time of less than one week because when there is a problem or issue that needs to be solved, answers are needed quickly. The Kurita America analytical laboratory ensures you receive the best results by having a stringent plan in place, including internal and external quality checks and standard samples to maintain accuracy and precision of our equipment. Additionally, the laboratory has several innovative technologies to test the samples:
Ion Chromatography for anions analysis
Ion Coupled Plasma for metals and minerals analysis.
Wet chemistry for determination of pH, conductivity, alkalinity
X-Ray Fluorescence for an elemental analysis, looking at metals and minerals in deposits
X-Ray Diffraction for examining the crystalline structure of the deposit
Fourier-Transform Infrared Spectroscopy for determining an unknown sample and identifying common compounds, such as type of glycol
Particle Size Analysis for determining group particle counts and sizing to guide filtration sizing for Kurita America's engineering and equipment group
The testing res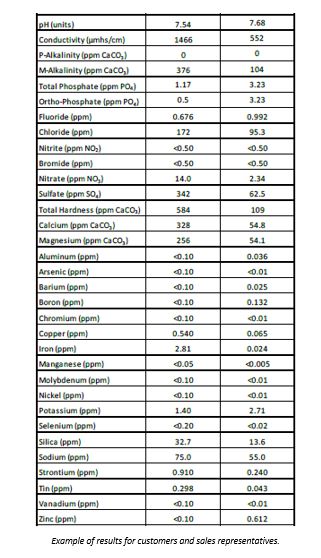 ults from the submitted field samples are then shared with the rest of the internal organization — such as product management, engineering and equipment (E&E), regional managers, and other parts of Kurita America's internal team — and you, and we will work together to find the best solution to meet the needs of your facility.
As an example, a prospective customer is having issues with deposition of an unknown material inside of a cooling tower. The Kurita America representative will send the deposit into the analytical laboratory for analysis. The analytical laboratory will run the unknown sample material and confirm the elemental breakdown of what is building the deposit in the cooling tower. Once that is completed, the local sales representative will examine all information provided by the analytical laboratory to develop a solution with water chemistries, E&E services, or both to eliminate the system deposition and get to the root cause of the water treatment issue.
Kurita America's trained staff have a spectrum of skills and expertise to best help your facility. Not only does Kurita America's analytical laboratory offer basic tests with state-of-the-art equipment, but our offerings are growing for the future of water management.
Your Results Delivered
By immersing themselves at your facility, your Kurita America representative understands how the laboratory results can impact your water, equipment, and bottom line. They recognize that every facility is unique and may require a different approach to provide the best solution. Whether it is compliance, operational efficiencies, or sustainability, Kurita America will be there every step of the way from taking the samples to evolving with any challenges.
Kurita America recognizes that ongoing service and support are vital to the continuing success at your facility. Kurita America's Total Solution approach evolves as your needs change, allowing you to grow your business and mitigate risk. This includes capabilities that go beyond chemical water treatment.
Your Next Steps with Kurita America
With Kurita America as your long-term partner, you have a broad portfolio of options and experts to help you. Based on your analytical testing, Kurita America will identify possible issues and will provide solutions. However, these results often highlight additional questions:
Where is the deposit coming from?
When does it enter the system?
How is it affecting the system?
Does the water quality affect the facility's process or products?
What can be done to stop the issue at the beginning?
What are the costs and benefits?
The questions could go on, but Kurita America knows exactly where to start and offers a variety of chemistries to treat the water, equipment to improve the process that is engineered to the facility's needs, and services that allow for open communication and catching issues early before they turn into emergency situations.
A problem can often be mediated by pumping more chemicals into your system, but that does not solve the problem or prevent it from reoccurring, such as spiked metals, scaling, or other issues that could cost you money and time. Our local representatives work with a laboratory to have analytical results to test and prove why a chemistry will work best for your systems, which allows you to focus on other needs. Kurita America has the innovative chemistries to solve your water challenges, and you also have access to a Total Solutions approach of equipment, engineering, and services to deliver unique value and optimal results while conserving natural resources for a more sustainable world.